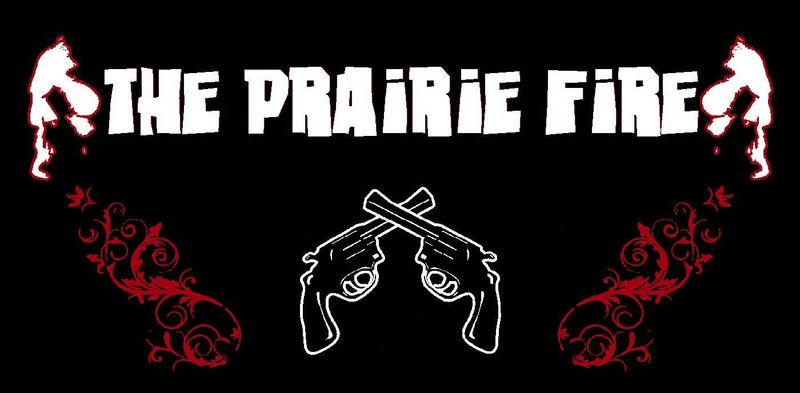 The Prairie Fire formed in early 2011 as a back-up band for Christophe's brand of Country-Punk. Isaiah and Christophe met and jammed at a local Open Mic and then Isaiah called Christophe wanting to form a band. Eddie Mercury was brought in on bass and the Prairie Fire were born.
 From time to time the line-up has changed. Various members have contributed their own songs or covers during their stint and shared in the lead vocals, giving the band a broader range. 
  Although the style expanded and the sound changed, The Prairie Fire still brought together a perfect blend of Gospel Folk, Outlaw Country and Hardcore Punk. You could find them on the fringe of the Oklahoma scene. Popping up now and then rocking out a local club or at one of the many festivals held in the area every year.
Members:
     Christophe Murdock (Vocals, Acoustic Rhythm Guitar, Electric Bass)
     Eddie Mercury (Vocals, Stand-Up Bass, Acoustic Rhythm Guitar, Accordion)
     Isaiah Harrell (Drums,Vocals)
     Joshua Johnson (Mandolin, Electric Bass, Vocals)
     Jim Fuckin' Bell (Drums)
     Joe D. (Electric and Acoustic Lead Guitars)
     Alan Wood (Vocals, Electric Lead Guitar)
     Dustin Scheller (Banjo, Dobro, Lap Steel)
     Morris Amos III (Electric Lead Guitar)
     James Paterson (Drums)
     Noah Sears (Drums)
     Jimmy Coffin (Drums)
     Joey Fisher (Electric Lead Guitar)
     Kenny Holloway (Drums)
     Randal Hickman (Stand-Up Bass)